Crucian carp powder
Source: Carassius auratus auratus
Specification: Pure crucian carp powder
Related products: Crucian carp paste, Freshwater fish concentrate juice, Carp flavor
Packing: 25kg/box
Description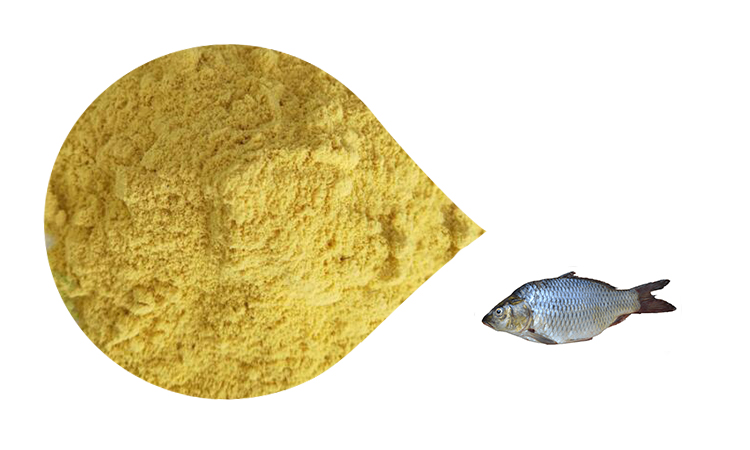 Source:
Carassius auratus auratus
Specification:
Pure crucian carp powder
Related products:
Crucian carp paste, Freshwater fish concentrate juice, Carp flavor
Packing:
25kg/box
Storage:
Stable for 12 months at room temperature with proper storage and handling
Shelf life:
12 months from date of production
Transportation:
The vehicle must be kept clean and dry, and must not be transported with toxic, harmful or strongly pungent odors
Note:
Use the product as soon as possible after opening it. If it cannot be used up all at once, it should be sealed and stored immediately
to avoid damage to the product flavor or change of state.
| | |
| --- | --- |
| Color: | Yellow-brown powder |
| Characteristic: | Typical crucian carp soup flavor, rich and full taste. |
| Ingredient: | Crucian carp powder |
| Recommended addition amount: | 1%-5% |
1.Pure crucian carp meal can be used in food seasoning to enhance the taste of food and make the food
exude the uniquedeliciousness of crucian carp.
2.Crucian carp is a kind of fish with high protein, low fat and high nutritional value. It is similar to the amino
acid pattern of human protein and belongs to high-quality protein.
3.Crucian carp is easy to digest, and the fat is mostly composed of unsaturated fatty acids, which has
the effects of lowering blood lipids, preventing atherosclerosis, and anti-cancer.
1.Pure crucian carp meal can be used in food seasonings, sauces, and hot pot ingredients
2.Pure crucian carp meal can be used in frozen food
3.Pure crucian carp meal feed